Broiled Cinnamon Grapefruit
This is one of our favorite low calorie breakfast fruits. Broiled Cinnamon Grapefruit is terrific with or without the brown sugar.  You don't need much, should you choose to use it.  Try coconut sugar or date sugar, if you prefer.
Broiled Cinnamon Grapefruit
Spa Index collection. This is an oldie, but a goodie. A classic low fat breakfast.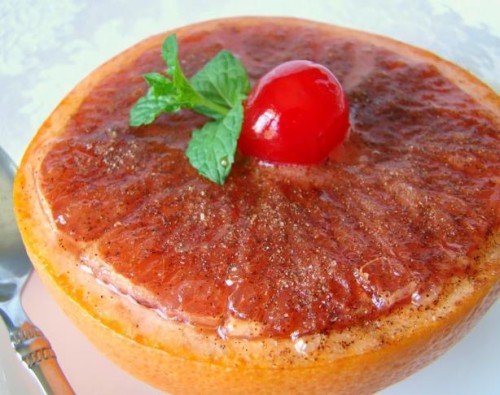 Courtesy of:
SpaIndex.com | Spa Lifestyle Daily
Ingredients
Version 1 (loose sections):
1 cup grapefruit sections
dash of cinnamon
dash of brown sugar
Version 2 (in the rind):
1/2 grapefruit
honey or maple syrup
Fruit Garnish
Method
For loose sections, arrange grapefruit sections in four custard cups. Dust tops with a little brown sugar and a touch of cinnamon. Use a kitchen butane torch or an oven broiler to caramelize sugar. Serve as an appetizer or breakfast fruit.
For in the rind, take a thin slice off the top and bottom of the grapefruit. This insures it will sit securely in a serving bowl when served. Cut the citrus in half.
Using a grapefruit knife, trim all the edible segments from the membrane in each half.
Place the two halves in an oven proof dish.
Drizzle liberally with honey or maple syrup and dust with cinnamon.
Use a kitchen butane torch until bubbly, or, slide them under a preheated broiler and allow to cook for about 8 or 9 minutes.
Plate, garnish with a strawberry slice and a sprig of fresh mint and serve straight away.
Notes
Photo (c) Marg CaymanDesigns
---
December 1, 2008 | Kitchens Spa Index