Canyon Ranch Breakfast Bread Pudding
This easy-to-make bread pudding freezes very well (after baking and cooling) and therefore can be made ahead of time and popped in the microwave to reheat for a fast and healthy breakfast. It can also be made into muffins. Just mound the mixture into each of 12 sprayed muffin tins or custard cups and shorten the baking time by about 5 minutes.  This makes it also a portable breakfast.  Take it to work and leave it in the freezer so you have something nourishing in a few minutes time.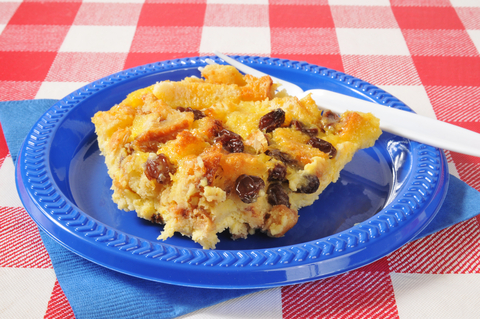 Courtesy of:
Canyon Ranch
Ingredients
Custard
1-1/2 cups non-fat milk
2 tablespoons corn oil margarine, melted**
4 egg whites
1/4 cup sugar*
1 tablespoon ground cinnamon
1 tablespoon vanilla extract
Stir In
12 slices light wheat bread, diced into 1/2-inch cubes
2/3 cup dark raisins or dried cranberries
Method
Preheat the oven to 350°F.
Spray a 9 x 12-inch baking dish or muffin wells with non-stick cooking spray.
Combine all custard ingredients in a large bowl and mix well. Stir in the bread and dried fruit and allow to soak for 5 minutes.
Spoon the mixture into the prepared dish and bake in the preheated oven for about 30 to 35 minutes, or until firm and nicely browned.
Cool on a wire rack for at least 10 minutes before cutting into squares 3 x 4 inches in size.
Notes
*Consider substituting a lower calorie sugar substitute, honey, stevia, or agave syrup (which will change the nutritional stats).
**Consider substituting coconut oil or your favorite butter substitute.
By the Numbers
| Cal:
143
| Fat (g):
3
| Carbs (g):
25
| Sodium (mg):
195
| Protein (g):
4
| Chol (mg):
1
---
March 25, 2013 | Spa Index Canyon Ranch, Favorites