Biggest Loser Breakfast Burrito
Breakfast burritos are an easy, wholesome and portable breakfast, and while most will have a decent number of protein calories, the frozen or fast-food variety are usually laden with cheese and fatty meats.  This version lightens the whole affair without sacrificing any flavor. They freeze well, so can be toted to work for a quick breakfast before your day begins.
Spa Biggest Loser Breakfast Burrito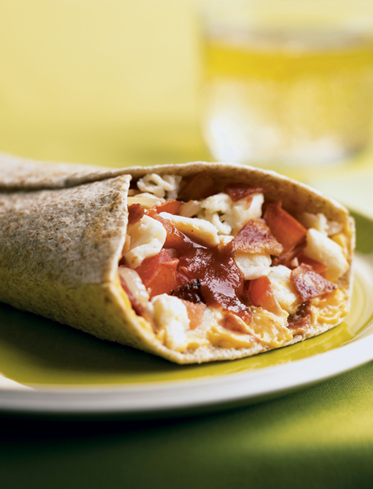 Courtesy of:
Biggest Loser
Ingredients
3 large egg whites
1 strip nitrate-free turkey bacon, chopped
1/4 cup chopped onion
2 tablespoons seeded, chopped fresh tomato
1 whole-wheat flour, 96% fat-free tortilla (8" diameter)
1/4 cup (1/2 ounce) finely shredded Cabot 75% Light Cheddar Cheese
2 teaspoons red taco sauce
Method
Mist a small microwaveable bowl with olive oil spray. Add the egg whites. Set aside.
Set a small nonstick skillet over medium-high heat until it is hot enough for a spritz of water to sizzle on it.
With an oven mitt, briefly remove the pan from the heat to mist with cooking spray.
Set back over medium-high heat and add the bacon.
Cook bacon, stirring occasionally, for about 2 minutes.
Add the onion. Continue to cook for 1 to 2 minutes, or until the bacon is crisp.
Add the tomato. Cook for about 1 minute, or until just heated.
Transfer the bacon mixture to a bowl. Cover to keep warm.
Place the tortilla in the pan and return to medium-high heat.
Cook for about 30 seconds per side, or until just warm.
Meanwhile, microwave the egg whites on low power for 30 seconds. Continue microwaving in 30-second intervals until they are just a bit runny on top. Stir them with a fork, breaking into large pieces. If they are still undercooked, cook them in 10-second intervals until just done.
Stir in the reserved bacon mixture.
Place the tortilla on a serving plate.
Sprinkle on the cheese leaving about 2" bare on one end, in an even strip (about 3" wide) running down the center.
Top with the reserved egg white mixture and drizzle on the taco sauce.
Fold the bare end of the tortilla up over the filling, and then fold the sides of the tortilla over the middle.
Serve your breakfast burrito immediately.
Notes
Excerpted from various sources including The Biggest Loser Cookbook and Cheryl Forberg, RD, the author of The Biggest Loser Simple Swaps: 100 Easy Changes to Start Living a Healthier Lifestyle. (Rodale 2009)
By the Numbers
Serving size:
1
| Cal:
251
| Fat (g):
5
| Sat Fat (g):
1
| Carbs (g):
30
| Sodium (mg):
630
| Fiber (g):
3
| Protein (g):
24
| Chol (mg):
28
---
April 8, 2013 | Kitchens Spa Index Biggest Loser Recipes