Blueberry Yogurt Mask Face Spa DIY
When you have your bowl of Greek yogurt and blueberries in the morning, just set aside a bit for this mask.   It is rich and nourishing with powerful anti-oxidants.   Don't worry, it doesn't stain your skin.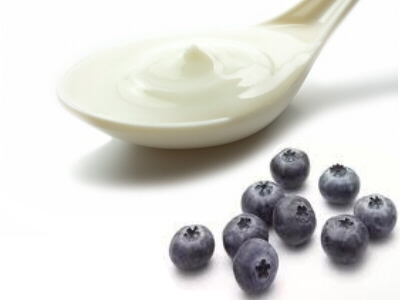 Courtesy of:
SpaIndex.com | Spa Lifestyle Daily
Ingredients
3 tablespoons steamed, crushed blueberries
1/2 cup sour cream or plain yogurt
Method
Purée ingredients in a blender at low speed until well mixed and fluffy.
Apply to face and neck.
Let penetrate for 15-20 minutes.
Rinse off with tepid water.
If you find the mask is too runny after blending, you should refrigerate for one hour or until of the consistency you desire.
Notes
Use immediately; do not store.
---
June 22, 2007 | Kitchens Spa Index DIY