Blueberry Sweet Potato Pancakes Recipe
Such bliss first thing in the morning! And amazingly healthy to boot! From the chefs at the Pritikin Longevity Center: Sweet Potato Pancakes served with a side of fresh blueberries atop pureed blueberries and Pritikin Creamy Vanilla Sauce. A touch of cinnamon was added to the sauce.   The Pritikin Eating Plan recommends and incorporates the healthiest food choices — but "healthy" does not have to mean "blah!"  — like with this  healthy breakfast recipe   This is a guest-favorite recipe, requested often, so here it is, courtesy of Pritikin Longevity Center in Florida.
Sweet Potato Pancakes with Blueberries and Vanilla Sauce
Get tons of nutritional goodness plus tons of delish with these Sweet Potato Pancakes With Blueberries.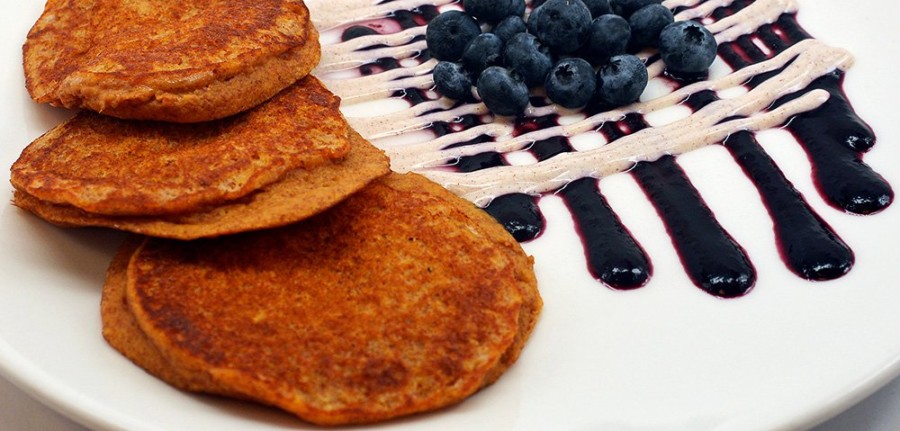 Ingredients
2 medium sweet potatoes
3 cups skim milk
1 cup egg beaters
1 teaspoon vanilla extract
2 cups whole wheat flour
2 teaspoons baking powder
2 teaspoons baking soda
1 teaspoon cinnamon ground
3 tablespoons Splenda
Light spray Pam
1 pint blueberries fresh
Method
Preheat oven to 400 °F.
Wash potatoes and pat dry. Poke several times with a fork. Wrap each potato in foil. Place on middle oven rack. Place a baking sheet on rack below potatoes to catch any drippings of natural sugars.
Bake until very soft to the touch, about 50 to 60 minutes. (Potatoes can be cooked days in advance.) Allow potatoes to cool. Then remove skin.
In a large mixing bowl, blend potatoes with skim milk, egg beaters, and vanilla extract.
In a separate large mixing bowl, combine all dry ingredients (whole wheat flour through Splenda), and mix well.
Make a well in the center of the dry mixture bowl. Pour the potato mixture into the center. Using a wire whip, whisk until smooth, using a circular motion.
Preheat nonstick omelet pan or griddle on medium flame. Lightly spray with Pam.
Use an ice cream scoop to portion each pancake onto preheated pan or griddle. Sprinkle blueberries on top of each cake.
Cook for 2 minutes. Flip. Cook another 2 minutes.
Notes
Pritikin serves these lovely pancakes with
Warm Vanilla Sauce
for those who have a few extra calories to spend.
---
ABOUT PRITIKIN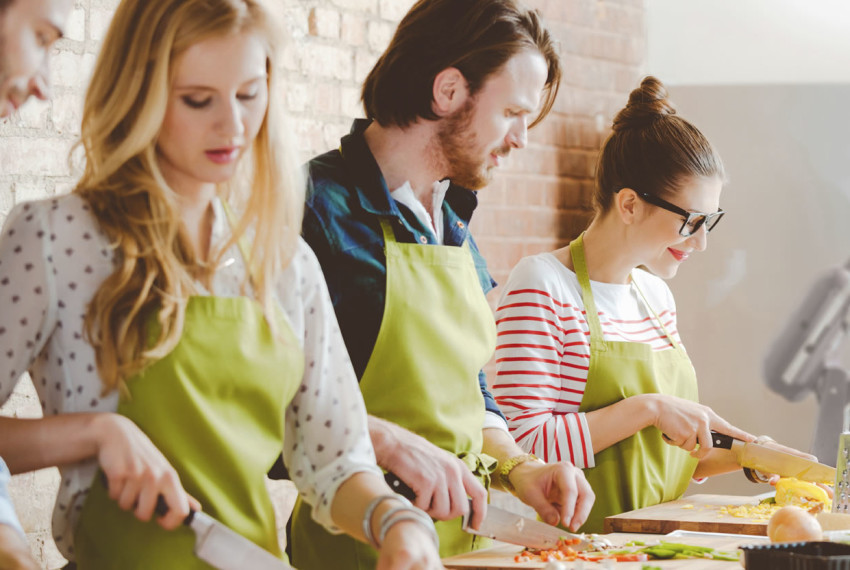 The Pritikin Eating Plan is proven in more than 100 peer-reviewed studies to have life-saving benefits like lowering cholesterol and blood pressure. Plus, you aren't losing your mind while losing weight. There's no calorie counting, no hunger. Just plenty of healthy, whole foods deliciously prepared, like the recipes shared with Spa Index.   Pritikin was the first comprehensive lifestyle program in America, and after 39 years on the cutting edge of lifestyle science, we are still the longest-running, most successful program for reversing many of modern society's health concerns, including obesity, heart disease, high blood pressure, and diabetes.   More than 100,000 people worldwide have come to Pritikin Longevity Center, in Miami Florida, for one-week programs, two-week programs, or longer. For some, the primary goal is losing weight. Others want to prevent and address health issues. Still others seek the ultimate spa-health vacation. Everyone leaves feeling better and, best of all – living better.
---
 

October 7, 2017 | Spa Index Miami, Pritikin, Weight Loss