Biggest Loser Southwest Chicken Pile Ups
This is a fun lunch or entree for one.  A toasted whole wheat pita takes the place of a flour tortilla, and it is topped with spicy hummus, shredded chicken, chopped veggies and dab of guacamole or fat free sour cream.    Plus, a trick when cooking for one.
When cooking and serving for one, it can be tough to make tasty little morsels like this without making an entire bowl of guacamole or beans, chopping and preparing vegetables which then have to be used quickly.  We don't need an entire head of cauliflower. We just need a bit.  We may be able to buy pre chopped cauliflower in the produce aisle, but what about all the other things?
Here's our trick:  Head over to a good quality natural foods grocer's salad bar and load up on the chopped vegetables, fruits, proteins and accompaniments intended for making salads.  Use them throughout the week. Skip the lettuce and the dressings which wilt the salad items anyway, and just get the goodies.  Pack away immediately at home and pull items from your "go to toppings" box.   Is it a tad pricier than buying the entire head of cauliflower? Sure, but this lets you practice portion control much more easily, and waste far less food when cooking for one, and THAT is economical, as well.
Biggest Loser Southwest Chicken Pile Up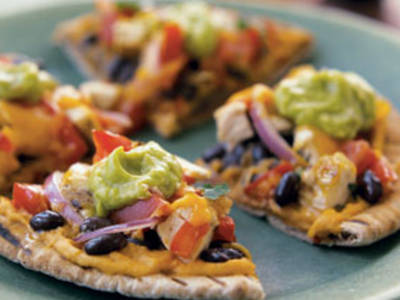 Courtesy of:
Biggest Loser
Ingredients
1 teaspoon salt-free Mexican or Southwest seasoning
1/4 teaspoon garlic powder
1 small boneless, skinless chicken breast
1 whole-wheat pita (6 1/2" diameter)
2 tablespoons hummus, preferably red-pepper flavor
2 tablespoons no-salt-added canned black beans, drained
Several red onion strips
Several red bell pepper strips
2 tablespoons chopped tomato
2 tablespoons chopped fresh cilantro leaves
2 tablespoons shredded Cabot 75% Light Cheddar Cheese
4 teaspoons guacamole or fat-free sour cream (optional)
Method
Preheat the oven to 450°F. Preheat a grill to high heat.
Sprinkle the seasoning and garlic powder evenly over the chicken.
Place the chicken on the grill rack.
Reduce the heat to medium. (If it is not possible to reduce the heat, cook the chicken away from direct heat.)
Grill for 3 to 5 minutes per side, or until no longer pink and the juices run clear.
Transfer to a cutting board and let stand for 5 minutes.
Chop the chicken into bite-sized pieces. Set aside.
Meanwhile, place the pita on the grill rack. Cook for 1 to 2 minutes per side, or until lightly toasted.
Place the pita on a nonstick baking sheet. Spread evenly with the hummus.
Top evenly in layers with the beans, the reserved chicken, onion, red pepper, tomato, cilantro, and cheese.
Bake for 6 to 8 minutes, or until the cheese is melted. Let stand for 5 minutes.
Transfer to a serving plate. Slice into 4 wedges. Top each wedge with a teaspoon of guacamole or sour cream, if desired.
By the Numbers
| Cal:
356
| Fat (g):
6
| Sat Fat (g):
1
| Carbs (g):
38
| Sodium (mg):
489
| Fiber (g):
8
| Protein (g):
38
| Chol (mg):
68
NBC's BIGGEST LOSER program is conducted at the Biggest Loser Resorts, Utah.  Excerpted from various sources including The Biggest Loser Cookbook and Cheryl Forberg, RD, the author of The Biggest Loser Simple Swaps: 100 Easy Changes to Start Living a Healthier Lifestyle; Jennie-O Turkey Store; Biggest Loser Family Cookbook; and Biggest Loser Resorts
---
May 17, 2014 | Kitchens Spa Index Biggest Loser Recipes