Biggest Loser New Orleans Chicken with Apricot Mustard Sauce
 If you have chicken breast in the fridge or freezer, mustard, your favorite fruit preserves, and basic spices, you have all the makings of this sweet and savory dish.
New Orleans Chicken with Apricot Mustard Sauce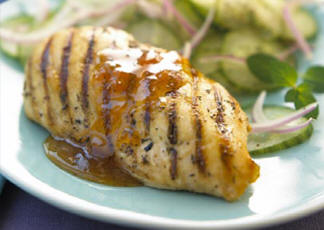 Courtesy of:
Biggest Loser Resorts
Ingredients
1 tablespoon dried thyme
1/2 tablespoon ground black pepper
1 teaspoon garlic powder
1/2 teaspoon cayenne, to taste
1/8 teaspoon salt
4 small (4 ounces each) boneless, skinless chicken breasts, trimmed of visible fat
1 teaspoon extra virgin olive oil
1/3 cup apricot 100% fruit preserves
2 tablespoons spicy brown mustard
Method
Preheat the grill to high heat.
In a small bowl, combine the thyme, black pepper, garlic powder, 1/2 to 1 teaspoon cayenne to taste, and salt. Mix to blend.
Place the chicken on a large plate or platter. Drizzle with the oil. Rub to coat the chicken evenly with the oil.
Sprinkle the reserved seasoning mixture over the chicken. Rub to coat evenly. Cover with plastic wrap. Refrigerate for at least 10 minutes for the seasonings to flavor the chicken.
Meanwhile, spoon the preserves into a small microwaveable bowl. Cook on low power in 15-second intervals, or until melted. Stir in the mustard until well blended. Set aside.
Place the chicken on the grill and reduce the heat to medium move away from direct heat.
Cook for 3 to 5 minutes per side, or until no longer pink and the juices run clear.
Serve each breast with 2 1/2 tablespoons of the reserved sauce spooned over the top.
Notes
Per serving: 1 chicken breast + 2 tablespoons of sauce. Try this with your favorite preserves. It's great with peach, orange, and raspberry, also!
By the Numbers
Serving size:
See Note
| Cal:
197
| Fat (g):
3
| Carbs (g):
15
| Sodium (mg):
245
| Fiber (g):
1
| Protein (g):
26
| Chol (mg):
66
---
NBC's Biggest Loser program is conducted at the Biggest Loser Resorts, Utah.  Excerpted from various sources including The Biggest Loser Cookbook and Cheryl Forberg, RD, the author of The Biggest Loser Simple Swaps: 100 Easy Changes to Start Living a Healthier Lifestyle (Rodale 2009); Jennie-O Turkey Store;  The Biggest Loser Club
---
August 16, 2013 | Kitchens Spa Index Biggest Loser Recipes