Biggest Loser Crispy Peanut Butter Squares
This dessert is perfect for bake sales and school lunches and are sure to become favorites in your home. Kid and Family Approved, not to mention coworkers and neighbors.  There is never a time our tray of these crunchy squares doesn't disappear immediately.  One of our staff's teenage daughters said "I'm all for testing the spa recipes, but it's nice when you make a regular treat like these!"   We waited until after she'd enjoyed them before telling her she was eating a Biggest Loser endorsed treat.
Biggest Loser Crispy Peanut Butter Squares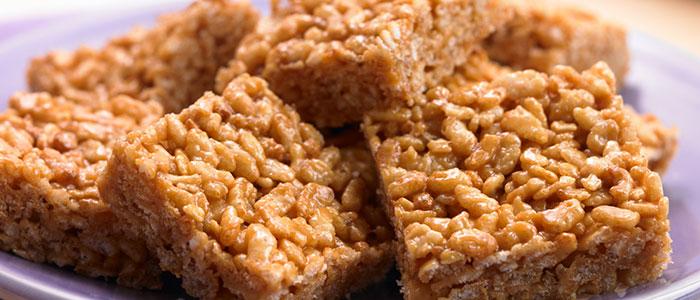 Courtesy of:
Biggest Loser Resorts
Ingredients
Butter-flavored cooking spray
3 cups 100% whole grain crispy brown rice cereal
¼ cup coconut sugar
¼ cup light agave nectar
¼ cup + 2 tablespoons unsweetened unsalted all-natural creamy peanut butter
Method
Lightly coat an 8" x 8" baking dish with cooking spray. Place the cereal in a large mixing bowl. Set aside.
Place a medium nonstick saucepan over medium heat. Add the sugar and agave and slowly bring the mixture to a boil. Boil for 1 minute. Reduce the heat to low and add the peanut butter. Stir until the peanut butter is melted and the mixture is well combined.
Pour the peanut butter mixture into the bowl with the cereal. Using a rubber spatula, mix until the cereal is well incorporated. Transfer the mixture to the prepared baking dish and, using a piece of parchment or waxed paper, firmly press the cereal into the pan. Allow to cool completely. Cut into 16 squares. Serve immediately or store in an airtight container for up to 4 days.
By the Numbers
Serving size:
1
| Cal:
83
| Fat (g):
3
| Carbs (g):
13
| Sugar (g):
7
| Sodium (mg):
41
| Protein (g):
2
---
NBC's BIGGEST LOSER program is conducted at the Biggest Loser Resorts, Utah.  Adapted from The Biggest Loser Dessert Cookbook by Chef Devin Alexander and The Biggest Loser Experts and Cast with Melissa Roberson. Copyright © 2010 by Universal Studios Licensing LLLP, . Reprinted by permission of Biggest Loser Resort.
---
August 23, 2013 | Kitchens Spa Index Biggest Loser Recipes