Biggest Loser Carne Asada
"This steak cooks very, very quickly," says Biggest Loser Chef Devin Alexander. "Be sure to watch it carefully so that you don't overcook it. One full minute per side on my grill resulted in a well-done steak when I used 2 1/2-pound pieces."

"It's also really important that you tent meat after cooking it," she adds. "Simply place a piece of foil over and around the meat, without actually sealing the foil, so steam can easily escape. This allows the juices to redistribute. If you cut into the steak the second it comes off the grill, you'll lose all of its natural juices."
NBC's Biggest Loser program is filmed at multiple locations, including the Biggest Loser Resorts, Utah
Biggest Loser Carne Asada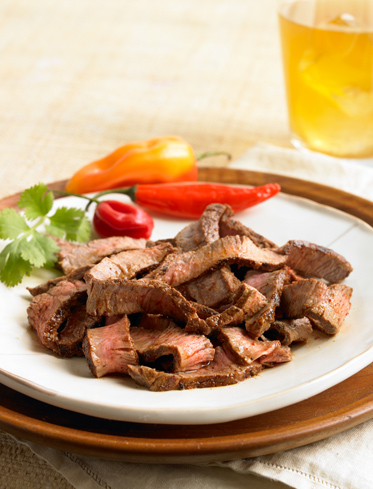 Courtesy of:
Devin Alexander for Biggest Loser Resorts
Ingredients
2 teaspoons unsweetened cocoa powder
1-1/2 teaspoons chili powder
1-1/2 teaspoons chipotle chile pepper (the one in a jar in the spice aisle)
1-1/2 teaspoons smoked paprika
1/4 teaspoon salt
18 ounces trimmed top round steak, preferably grass-fed (see note)
1 teaspoon olive oil
Method
In a small bowl, mix the cocoa powder, chili powder, chipotle chile pepper, paprika, and salt until well combined.
Place the steak on a clean, flat work surface. Using the toothed side of a meat mallet, tenderize the steak by pounding both sides to a 1/8" thickness (it can have some small holes in it but shouldn't be so flat it tears apart).
Rub the oil over all of the steak, then rub the seasoning mixture evenly over that.
Allow the steak to stand for 15 to 20 minutes.
Meanwhile, preheat a grill to high heat. When hot, grill the steak for 45 seconds to 1 minute per side for medium-rare.
Transfer to a plate and tent with foil (place the foil loosely over the top) for 10 minutes.
Cut across the grain into thin slices and serve immediately.
Notes
Always make sure your meat is trimmed of all visible fat.

From "The Biggest Loser Flavors of the World Cookbook" by Chef Devin Alexander and The Biggest Loser Experts and Cast, © 2011 by Universal Studios Licensing LLLP, The Biggest Loser™, NBC Studios, Inc. and Reveille LLC.
By the Numbers
Serving size:
3-4 oz
| Cal:
145
| Fat (g):
6
| Sat Fat (g):
2
| Carbs (g):
2
| Sodium (mg):
227
| Fiber (g):
1
| Protein (g):
28
| Chol (mg):
56
---
January 31, 2013 | Kitchens Spa Index Biggest Loser Recipes