Best Day Spas in Boston
The votes are in for the Best Spas in Boston. Check out our list of award-winning and reader favorite spas and use our guides to both Spas in Boston and Spas in Massachusetts to find the perfect place for your next spa day or spacation.
These day spas offer skin care, massage, manicures, pedicures, aromatherapy, couples treatments and much more.  These spas are considered the Best of Boston based on polls and ratings from our readers and spa enthusiasts, visits and reviews by SpaIndex.com Secret Spa Reviewers, local radio, print and digital media, and spa industry professionals.
BEST HOTEL SPA
Spa at the Mandarin Oriental
776 Boylston Street, Boston | 617-535-8820
The Spa at Mandarin Oriental provides an urban luxury oasis in Boston with its extensive amenities and facilities. Spanning over 16,000 square-feet, this spa is a peaceful space of tranquility and well-being.
Guests are encouraged to arrive early before treatments in order to enjoy the modern fitness center, heat and water facilities, quartz crystal steam room, vitality pool, experience showers, ice fountain and relaxation lounges, and the spa boutique.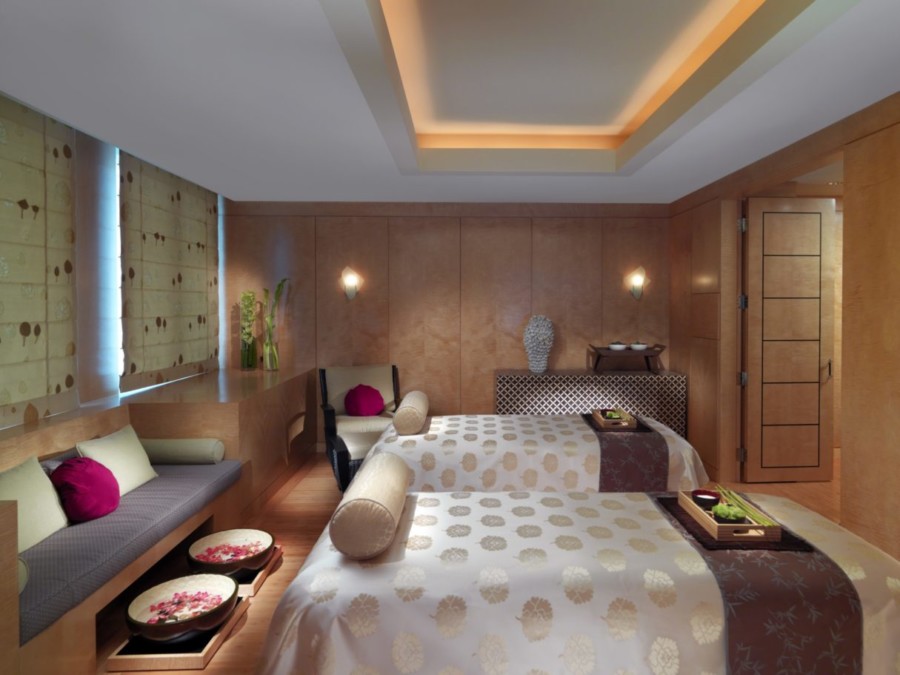 I visited the Spa at the Mandarin Oriental, with my husband, for a massage, manicure and pedicure.  We were welcomed warmly and greeted with tea, plush spa robes, and were given a tour of the rooms and all the features we were welcome to enjoy. The services were excellent, and my husband, normally reticent for anyone fussing with him, enjoyed having his feet worked on. We were served additional beverages and invited to linger over snacks. We decided this is the best 6 hour vacation we've ever taken (we were welcomed to come early and stay after our services to enjoy all the amenities).
Secret Spa Reviewer
This spa is heaven in the city. Seriously.   I travel for a living and stay in hotels about 6 months out of the year, and enjoy many spa services. That means I'm no longer easily impressed or swayed. Makes me sound jaded, but I'm not. I just have learned to discern real amenities and luxury from "frosting."  The amenities at the Mandarin Oriental Spa Boston are just superb. You are given a tour to make sure you know all the various details you need to enjoy (go early). The over-sized hydrotherapy tubs and steam room are enhanced with chroma-therapy and essential oil scented steam, with crushed ice on hand. I enjoyed a deep massage from a therapist who didn't treat me as a tourist, but cared about the outcome. I floated out on Cloud 9.
Secret Spa Reviewer
BEST DAY SPA - ESTHETICS
Bella Sante Day Spa and Med Spa
38 Newbury Street, Boston | 617-424-9930
Bella Sante was selected as the Best Overall Day Spa in Boston on the Readers' Boston Favorites Poll on SpaIndex.com in 2015 and 2016, and Bella Sante currently holds the record for the most wins for "Best of Boston" by Boston Magazine in the Day Spa Category, with additional wins in Best Spa, Best Manicure, Best Massage, Best Pedicure and Best Sunless Tanning Treatment.  Readers and our Spa Reviewers alike love the environment, ambiance, customer service, excellent skin care, and more.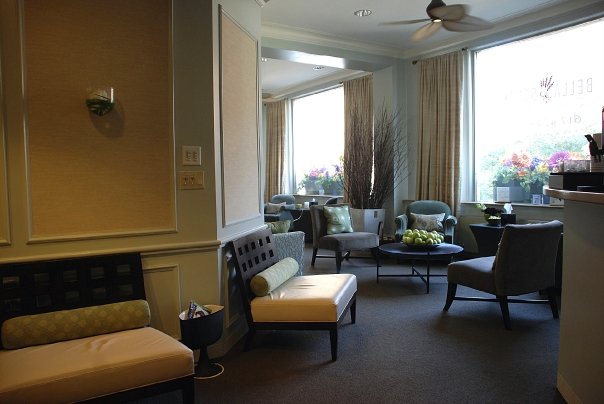 Bella Sante in Boston has everything you need for a spa day.  You'll enjoy excellent services, as well as use of a spacious and clean steam room and fully outfitted locker room.  Before services (or after) enjoy a variety of herbal teas and fruit-infused spa waters throughout the facilities, fresh fruit, nuts and more. I enjoyed skin care from Liliana who was very knowledgeable and helped my face glow. Best of all, I never felt pressured to buy products, but she made recommendations after asking what I was using, because I had  sun damage.  She recommended a product and gave me a sample so I could decide if I wanted to purchase it "on a future visit."  What I truly loved was that a spa attendant approached another guest who decided it was okay to make a loud call, and instead of shutting her down with a "that's not allowed" approach, she leaned down and said "May I escort you to a private area where no one can hear what must be an emergency call?"  The guest sheepishly hung up. That's how you do it.  Five stars.
Secret Spa Review
BEST DAY SPA - MASSAGE
etant – Spa for Well-Being
524 Tremont Street, Boston | 617-423-5040
étant is a day spa offering a variety of traditional massage, skin care and wellness treatments, including acupuncture and Chinese medicine, with consistently friendly and respectful service.  Our readers universally praised the waxing services, and any massage by their team of experts.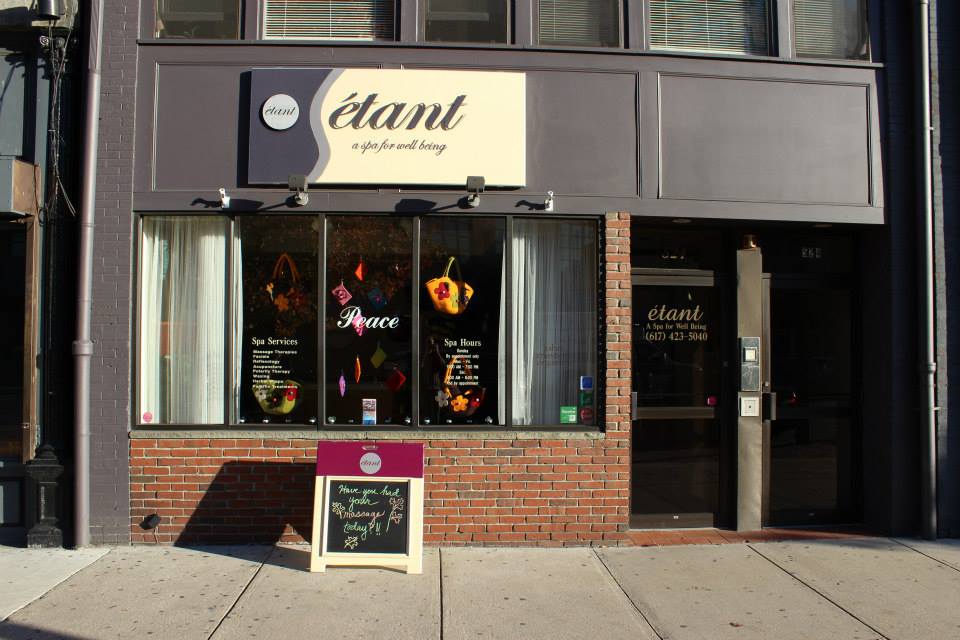 Jadon Loder's techniques set a new standard for Best Massage in Boston.  I appreciated his knowledge of the body. He was able to help me address some long-lingering pain from sports injuries which were worsened by a really physically demanding job.   I feel younger, and walk younger, by not being hunched over.
Secret Spa Reviewer
My massage therapist was Fatima who really made me feel comfortable and relaxed for my pre-natal massage, starting with warm blankets and positioning me until I was "just right."  I'd been having an uncomfortable pregnancy and honestly, I consider her part of my care-team.  I'll be going back regularly.
Secret Spa Reviewer
BEST DAY SPA - ALTERNATIVE
Inman Oasis
243 Hampshire Street, Cambridge | 617-491-0176
This Inman Square neighborhood spa specializes in massage and hot tub soaking hydrotherapy in a Feng Shui designed wellness center. Hot soaking is available in both private Japanese style wood hot tubs and a shared community tub available for walk-in guests. Massage therapy is offered in one of three heated private rooms. Regulars appreciate discounts for students, seniors, bringing your own towels and visiting during non-peak hours.
This place is a neighborhood gem in Cambridge, favored by local residents and very welcoming to new guests.  The spa is very clean and tidy, with nice touches such as plastic bags for wet bathing suits and shower shoes to protect your feet. Hydration is important, and the staff quietly popped in and made sure if fresh water was needed.  My massage therapist is Phil and he's just excellent at working out your stiff areas.

Secret Spa Reviewer
HONORABLE MENTION
Corbu Salon Spa at the Charles
5 Bennett Street, Cambridge| 617-661-5772
Corbu Spa & Salon is located at the Charles Hotel in the heart of Harvard Square. The French influenced spa menu spotlights nature and is enhanced by botanicals handpicked from the hotel's own roof-top garden.   Services include skin care, waxing, body treatments massage, manicures and pedicures and cutting edge hair cuts and styling.
I enjoy the quiet and mature environment of Corbu.  It's a lovely hotel spa without being so over the top I feel like I can't pull my feet up and relax.  It's bright and airy thanks to the skylights, clean and fresh.   No bothersome chatter from the stylists, a warm enough massage room and good services. Private lockers and a steam shower, with robe and slippers, are nice amenities. While prices are on par with hotel spas (pricier than neighborhood spas), I feel perfectly at ease here, and now drop in monthly.

Secret Spa Reviewer
BROWSE MORE SPAS IN GREATER BOSTON
Boston is the capital of Massachusetts and the largest city in  New England.   The Greater Boston area includes Winthrop, Revere, Chelsea, Everett, Somerville, Cambridge, Newton, Brookline, Needham, Dedham, Canton, Milton, and Quincy. Nearby communities include Arlington,  Medford, Watertown, Wellesley, and Weymouth.
CLICK
BROWSE MORE SPAS IN MASSACHUSETTS
Our Guide to Spas in Massachusetts includes its major towns, cities and destinations, including Boston, Lexington, Worcester, Springfield, Cambridge, Lenox, Cape Cod, Nantucket, Martha's Vineyard and more.

CLICK

June 18, 2016 | Spa Index Best Day Spas, Boston MA, Massachusetts