Beach Sand Scrub
The next time you decide to spend the day at the beach, take advantage of the "on location foot treatment" with Beach Sand Scrub. Brazilians, particularly, are known for scrubbing their entire bodies, particularly the feet, deep into the sand while they relax on the beach.  The recipe calls for Canola Oil, but you can use your favorite baby oil or massage oil.  In a pinch you can use suntan oil, but we don't recommend it (for tanning or any other use)  — they are often of poor quality and overly scented.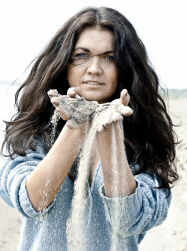 Courtesy of:
SpaIndex.com | Spa Lifestyle Daily
Ingredients
2 Tablespoons Canola oil
2 Tablespoons dry beach sand
3-5 drops rosemary oil (do not use if pregnant)
Method
When going to the beach, take a small vial of ingredients with you: 2 tablespoons of canola oil (or use your suntan oil!) and, a small vial of rosemary oil -- or premix and take one vial.
Once at the beach, use an empty container (a soda cup is fine) to mix the ingredients together. Mix into a paste.
Massage sand scrub onto feet (and elbows), concentrating especially on problem areas.
Rinse off in the foamy waves or beach shower room, and pat dry with your beach towel.
July 31, 2013 | Kitchens Spa Index DIY