Avocado Walnut and Crispy Bacon Salad
Eating healthy doesn't have to be boring when you focus on bright, colorful meals. To get you started on the color palate, here is a deliciously interesting salad: Avocado, Walnut & Crispy Bacon.  While  all three of these foods are considered high fat, they are very satisfying when modest portions are measured out and will keep you sated.  This is a terrific Winter Entree Salad, when heavier, more calorie-dense meals are the norm.
Simply by making sure your plate reflects a range of colours, and then adding flavors and textures, you'll naturally create more balanced and healthful menus. Not everyone has the patience to count calories, but assessing the colours on your plate is something anyone can do – and it only takes an instant.
Why is colour important?  You've heard the term "Eat the Rainbow" for health.  This is because many fatty and caloric foods, such as dairy products and startchy carbs, are beige or brown. When there are too many of these drab colours on your plate, you'll struggle with weight and a general feeling of being bogged down.  That's because these beige foods often are high in calories but low in nutrients and can leave you feeling hungry later.
There are beige and brown super foods like beans and rice, a perfect protein, but they can weigh you down. A cup of beige or brown beans can be over 200 calories and carbohydrates make many of us sleepy and tired, where,  a cup of red or green vegetables is under 100 calories without the sluggish feeling.
Adding fresh greens, deep purple-reds and bright yellow-orange to a meal, and watch the nutrient content go up, while calories go down.  Plus, you'll get more enjoyment from eating when there's a variety of colours and flavors on your plate.
Although these ideas may sound whimsical, they're grounded in scientific fact. Dr David Heber, renowned nutritional expert from University of California, Los Angeles established the role of colour in his book "What Color is Your Diet?" So, next time you visit the refrigerator, think colorfully. And remember to mix, not match!
Avocado Walnut and Crispy Bacon Salad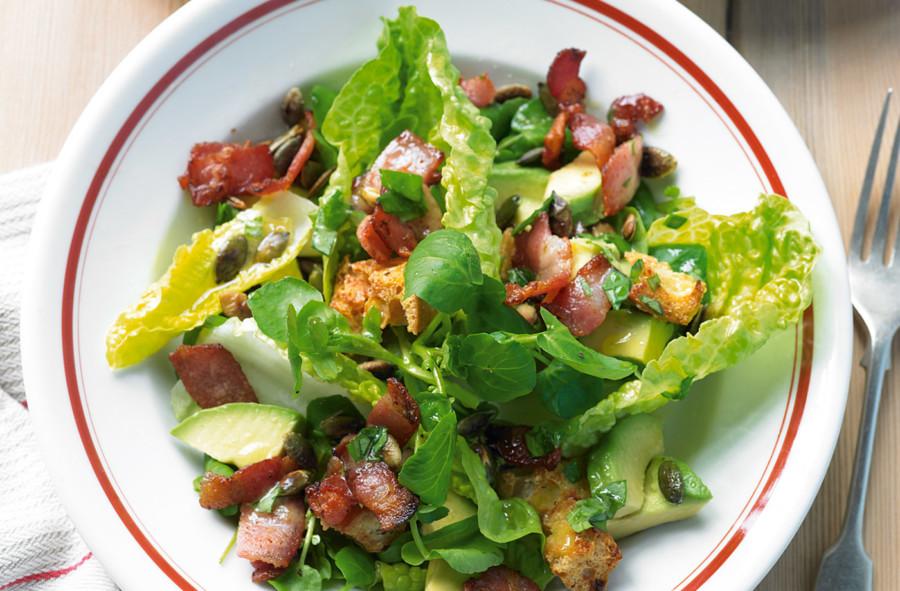 Courtesy of:
SpaIndex.com | Spa Lifestyle Daily
Ingredients
7 oz (200 grams) bacon, chopped
1/2 cup walnut haves, roughly chopped
1/3 cup extra virgin olive oil
1/4 cup fresh lime juice
6 oz (150 grams) baby spinach leaves, trimmed and washed
3 ripe Roma tomatoes, diced
1 large ripe avocado, halved, peeled, seed removed and sliced
1 small red onion, very thinly sliced
salt and pepper
Method
Heat a non-tick frying pay over medium high heat. Add bacon and cook, stirring occasionally, for 3-4 minutes or until crisp. Remove bacon and set aside to cool.
Add walnuts to the same pan and cook over medium-high heat for 2-3 minutes or until lightly toasted. Remove with a slotted spoon to a plate and set aside.
Add oil and lime juice to pan. Season with salt and pepper to taste and stir to combine.
Combine spinach, tomatoes, avocado, onion, bacon and walnuts in a large serving bowl.
Pour warm lime dressing over salad and toss gently to combine.
Serve immediately.
---
December 23, 2013 | Spa Index Super Foods