Arkansas for the Modern Spa Enthusiast: A Tour of Arkansas Spas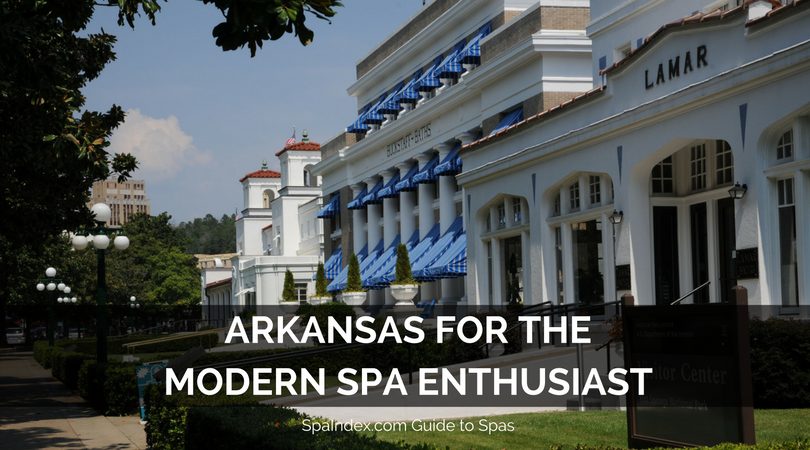 After my visit, I returned to California with a new appreciation for the beautiful, hospitable, and historic state of Arkansas, and its important role in providing both a look back to our nation's spa history,  as well as progressive spa and wellness resorts for a new generation of visitors. Make sure you're one of them.  You will not be disappointed.
Kevin McClain
ARKANSAS PROMISED I'D BE SURPRISED. AND I WAS.
I love to travel to new and different destinations, and can almost always find something and someplace to recommend in out of the way places. Part of this enthusiasm for different cultures, food, architecture, activities, is the result of my being raised in one of the most culturally diverse of areas of the United States — Berkeley and San Francisco, California.
Still, one of the areas of my own country I have not visited much is the South. I can't identify any particular reason, other than the misguided idea, perhaps, that returning to the slow pace of the South wasn't progressive.  Nothing I'd read about Arkansas had indicated much had changed but for its association with the Clinton presidency. Then, this year, Arkansas tourism guides called.
"Come tour our spa region" they said. "We think you'll be surprised."
"Arkansas Spa Region" conjured up textbook memories of segregated bathhouses, medical quackery, and a bubbling spring or two "Road to Wellville" style.
Personally, I'm a spa resort fan, not much of a hot springs fan. Plus, my itinerary for Spring touring was already hectic – I'd just returned from South Africa, and wasn't sure there was energy or time for Arkansas.
My staff cajoled, pitched and argued in favor of Arkansas.
"You're not going to an old bathhouse" they said.  "Think of it as revisiting spa history. This is one of America's earliest spa regions. There's a value to that."
A few rainy mornings later, my team put me on a plane in San Francisco, enroute to Little Rock, Arkansas.  I was heading South, and what I'd discover when I arrived is that Arkansas is just as golden, clean, wonderful, and beautiful, as my own bay area.  Road to Wellville it was, and not as a joke.
Arkansas promised I'd be surprised, and I was.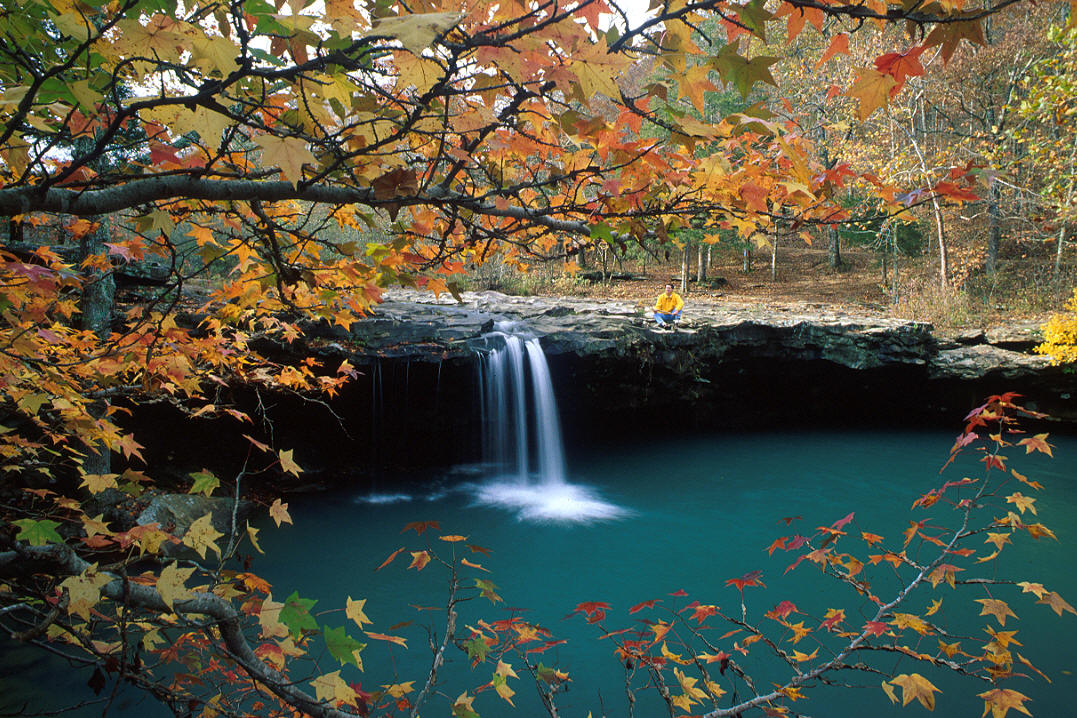 THE OZARKS
On our first morning, my tour guide from Arkansas Tourism arranged for my fellow media guests and I travel from Little Rock through the Ozarks to two of America's Historic Spa Districts – Eureka Springs and Hot Springs, Arkansas.
Eureka Springs is approximately 3 hours north of Little Rock, in the heart of the Ozark Mountains.   I was taken in by the long, winding drive to and through the soaring limestone bluffs of the Ozark Mountains in Northern Arkansas, which were simply breathtaking.  This region is known for its rugged woodlands, waterfalls and pristine waters.
The area's primary cultural attraction is The Crystal Bridges Museum of American Art, a modern museum sprawling on a 120-acre section of land in a natural ravine of the Ozarks woodlands with natural springs, streams, geographical features, and a host of native plants and animals. The Crystal Bridges Trails and Grounds are open from sunrise to sunset daily.
The museum boasts an extensive and permanent collection of works by Andy Warhol, Norman Rockwell, and Georgia O'Keeffe. The permanent collections are sponsored by Walmart, which welcomes visitors with no admission fees.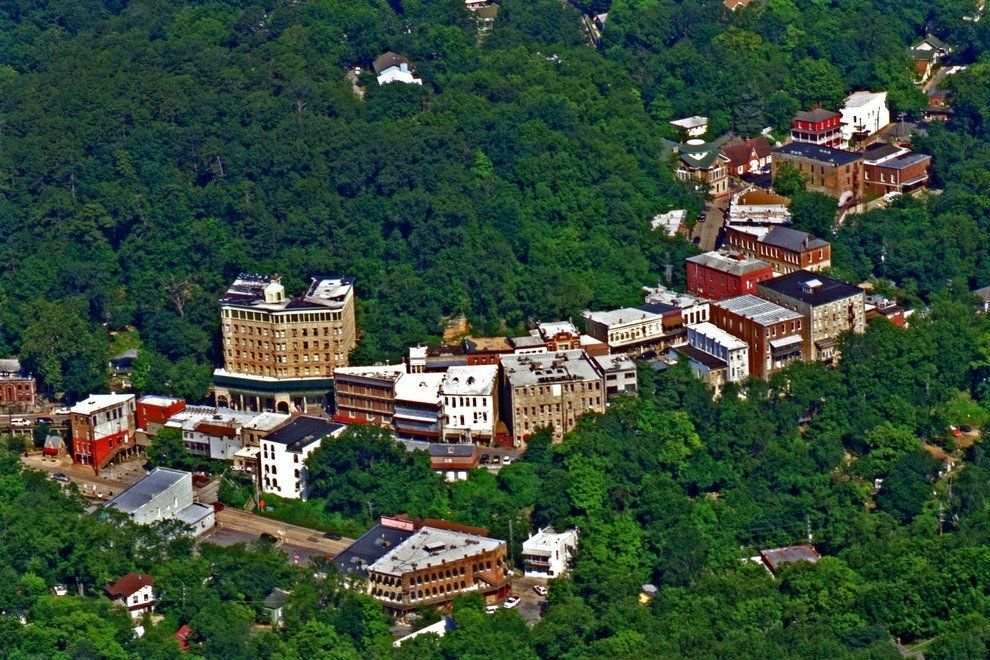 FOLLOW THE CONCRETE
Even the best tour guides can get turned around deep in the mountains and sure enough, we took a few ill-advised turns when trying to find our hotel.  A pleasant and accommodating local resident came to our rescue.   Seeing a van full of bewildered visitors, he pointed down to the paved roadway and said "See this?  We call it 'the concrete.'   Follow the concrete North to the top of the hill, and that's where your hotel is."
So, we followed the concrete to the Victorian-era village of Eureka Springs, nestled in the picturesque Ozark Mountain Valley.
The entire downtown Eureka Springs is on the National Register of Historic Places, and, in 2002, Eureka Springs was designated  one of the "Dozen Distinctive Destinations" by the National Trust for Historic Preservation.
When you arrive in Eureka Springs, there is a feeling you've come through a movie industry set for  the perfect forest, and just happened upon a Pleasantville, an improbably quaint town appearing in the middle of the woods — Brigadoon style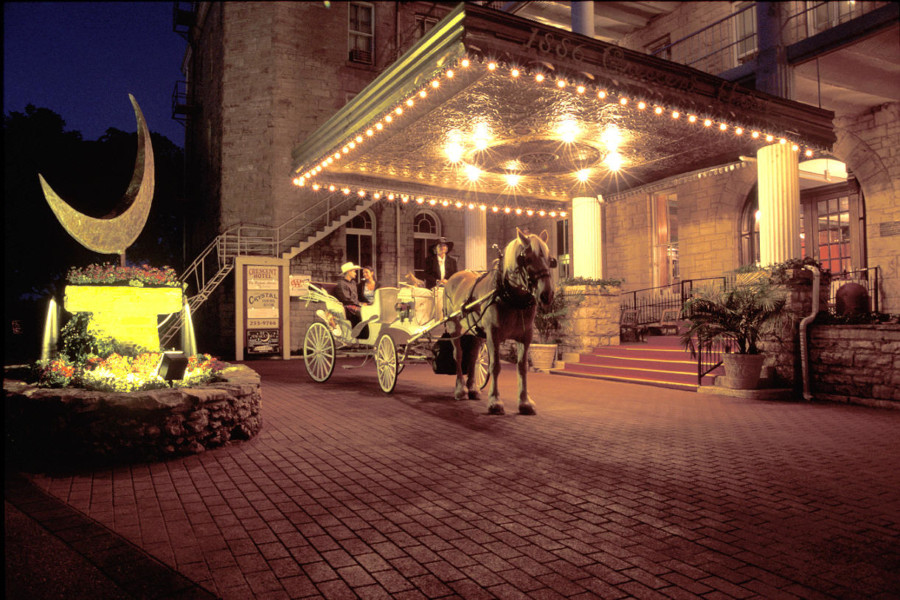 The Crescent Hotel and Spa, Eureka Springs
While Eureka Springs takes it name from the curative properties of the region's abundant spring waters, the city is also known for its bustling arts and music scene, beautiful Victorian architecture, winding mountainside streets and many blocks of  shops, boutiques, fine art galleries, craft emporiums, restaurants, theaters, two lakes, museums, a botanical garden, and a steam train.
We were lodging at the Crescent Hotel and Spa  built in 1866 and  dubbed the Grand Old Lady of the Ozarks.  The Crescent Hotel and Spa is a member of the Historic Hotels of America and Historic Hotels of Arkansas.    The hotel has seen its share of eccentric owners, visitors, hosts a few resident ghosts, , and will appeal to history buffs who love a story.
The Crescent Hotel has an aura of quiet grandeur, partly helped by its location on top of Crescent Mountain, the highest point in the county.  The hotel is rich in Victorian era charm, with the expected rich wood paneling and molding, vintage lighting fixtures, wall stenciling, wainscoting and mosaic tile accents, and even an oversized skeleton room key.
Unexpected was the spaciousness of my Jacuzzi Suite.  It easily accommodated the king sized bed and comfortable furniture in a sitting area. Victorian furniture may be pretty to look it, but it isn't always accommodating, and the Crescent doesn't fall victim to style over comfort.
NEW MOON SPA & SALON, EUREKA SPRINGS
The bone structure of the Crescent is from more than a century ago – expansive, sturdy, traditional and historical.  The day spa is another matter — fresh and new.    This onsite day spa is the New Moon Spa and Salon which  occupies the garden level at the hotel, reached by descending a large, old wooden staircase.
When I arrived at the spa, I actually did a comic double-take.  As soon as I entered, there was the surreal feeling I was still at the last two stops I made – my own San Francisco neighborhood.
This spa was no overdressed Victorian ladies' lounge with Victorian settees or curio cabinets.   I was standing in a sleek, modern lobby of an upscale metropolitan day spa – seemingly plunked into a Victorian hotel in Arkansas.
As I waited to meet the spa director Nicole Post, I took in the retail wall lined with Aveda skin care products (welcome news to me, an Aveda user), sleek beech wood floors, light and airy fixtures, and a decidedly Zen-like foyer.   There is no feeling of being stuck in a basement or other inhospitable space.
After being offered a cup of tea, I was escorted into the "Chill Room", designed as a quiet space for relaxation or reading for all guests, spa and hotel alike.
New Moon Spa and Salon Treatments
I enjoyed a 30-minute Vichy Shower from Dasha Mensik, designed to stimulate and flush your lymphatic system. Overhead jets of alternating warm and cool water cascaded over me, which felt terrific. (30 min).  Also available as a "water therapy" is the Hydrotone Tub — 83 jets of air and water for the body (30 min).
After my Vichy Shower, I had an hour-long Rosemary Mint Body Wrap.  To start, I was dry exfoliated to prepare my skin for the lotion, enveloped in blankets, and then treated to a scalp and foot massage, which left me relaxed, and neither overly warm or cool.  Too frequently, wraps leave me cold or hot or both, and I find them uncomfortable. Not so here, where my comfort level was assessed and treated (1 hour).
Additional services include massage (they offer a "dry massage" performed while you are fully clothed, for the shy or body conscious), sauna, facials, body scrubs and wraps, chiropractic and acupuncture services by a visiting chiropractor, spa packages, manicures, pedicures, waxing, cosmetic services, and full hair salon services.   The New Moon Spa and Salon welcomes day guests who are not staying in the hotel — always a nice touch for the local community — particularly one in small or remote area.
MOUNTAIN HARBOR RESORT & TURTLE COVE SPA, LAKE OUACHITA
The newest "it" spot, a small gem of a restaurant, an undiscovered hotel or a new spa — when you come across one of these you have a sense of excitement, an eagerness to share the find with your friends and family, but also the urge to keep it secret, for yourself. I am going to overcome that urge and share with all of you my newest gem — a lakeside resort spa which I predict, a year from now, won't need any introduction from me.
Sitting on the shores of Lake Ouachita, Mount Ida, Arkansas, 23 miles west of Hot Springs, Arkansas is the Mountain Harbor Resort and Turtle Cove Spa, family owned since 1955.
Mountain Harbor Resort's property has plentiful natural beauty with endless lake views, and the smell of fresh clean natural air abounds (the air and the water at Harbor in the Ouachita National Forest has been given the highest rating for purity by the EPA).
I met owner Bill Barnes and his wife at the Lodge Restaurant.
Bill has spent his entire life raised on this property and his pride of ownership has translated well, with congenial and interested staff and employees, and a depth of care and concern for his property and the surrounding communities.
Over lunch, Bill shared a story of a nearby fire, which, due to the remoteness of the area, firefighters couldn't respond to quickly.    On the spot, Bill "I will not let this happen to us, or my neighbors, again."   Barnes and his employees trained as volunteer firefighters, purchased fire tucks, and maintain the Mountain Harbor Volunteer Fire Department on site.
This pride further manifests itself on the grounds of property and in the custom built lodgings, cottages, and other buildings, meticulously maintained by six on site employees.
The Mountain Harbor Resort boasts an incredible variety of accommodations to suit everyone from the solo traveler, small and large families, to corporate event and conference planners. Every contingency has been well planned and prepared for.
The Barnes described their lodgings as 'cottages', and because this was an Arkansas lake resort, I admit I expected a quaint Jean Shepherd inspired vacation cabin or summer camp environment.   What I was ushered into, however, far exceeded my expectations.  To say I was impressed is an understatement. I called my staff to report "I've found our next conference location."
My "cottage" had 17 foot ceilings with a new native stone fireplace. Off the entryway was the dining room and kitchen area, with new and top of the line appliances. The Arkansas knotty pine floor was easy on the eye and feet. The upstairs loft bedroom had a queen size bed with a shower and tub bathroom. On the lower level, an ADA approved bathroom and a master bedroom with a king sized bed and large screen television housed in an armoire. On my bed, scattered rose petals, a luxury branded robe, and dipped chocolates.
If this were not wonderful enough, the clincher was the wrap around porch with a hot tub which could easily fit 6 or more. My trip to Arkansas had been rather long and arduous, and came on the heels of an international trip. Before I fell into bed, I turned on the jets, got in the hot tub while the outside March temperature was only 28 degrees, and stared at vibrant stars in the unpolluted, dark night sky. I thought "How did my staff know how much I needed to come to Arkansas?"
Spa Treatments at Turtle Cove Spa
A serene pathway leads to the tranquil entry to the Turtle Cove Spa. The spa's decor is a soft woodsy green.
I was greeted warmly by the front desk and taken to a tranquility room, where I was given a medical history questionnaire so that the aesthetician could properly advise and treat me, as well as keep a record for future visits.
After changing in the dressing room, I enjoyed a gentlemen's facial (50 min, $80) that concluded with an upper body and scalp massage. The aesthetician asked the requisite questions and informed me, happily for me, that my favorite Aveda skin regime and my faithful wearing of a hat and sunscreen was having a positive effect, because my skin was that of a much younger man. With that, I decided she was quite possibly my favorite aesthetician in the United States.
The full service menu of services offers massage (couples, pre-natal, Swedish, Thai, Shiatsu, hot stone and deep tissue massage as well as cranial sacral and reflexology foot and hand massage); Skin care for men and women features customized facials for your skin type and skin condition and intensive anti-aging facial therapies; Body Therapy includes Dead Sea Salt body polish, Moor mud treatment, Vichy shower, steam capsule, milk and honey or algae wraps and self-tanning treatments; Special Spa Therapies include holistic healing, such as crystal energy and raindrop technique; Nail, Hand and Foot therapy includes luxury manicures and pedicures for men and women, as well as paraffin wax and Microdermabrasion treatments; Body Waxing is available to remove unwanted hair from bikini area, eyebrows, legs, back, chest, underarms, chin, face; Mineral based make up and cosmetic products, application and lessons are also available.
The Erica Miller Wilderness Pavilion
Erica Miller was a true pioneer in the spa industry – an internationally known spa and esthetic educator, director, teacher and spa manager.  Miller created the "Erica Miller Spa Management, Esthetics and Directors School" in British Columbia, Canada.  The school and its programs are based on Miller's 30 years experience in North America, Europe, and the Orient for spa therapies and esthetics.
Miller was of significant help to the owners in creating Turtle Cove Spa, and personally visited Mountain Harbor Resort and trained the staff, not long before her untimely death from cancer.   The Barnes created the Erica Miller Wilderness Pavilion in her honor, and it offers couples massage, an outdoor fitness platform, yoga, meditation, and reflection.
Family Getaways

Mountain Harbor Resort and Turtle Cove Spa offers an ideal location from which to take advantage of a truly impressive array of outdoor activities, which will entertain every member of the family. Sports enthusiasts, spa enthusiasts, nature enthusiasts, and water enthusiasts will all be accommodated. I'd easily describe this as one of the best family spa and lake vacation destinations in the United States.  A family simply can't be bored, here.
Lake Ouachita is rated by the EPA as one of the cleanest lakes in the nation. With 49,000 surface acres, over 1000 miles of wilderness shoreline and over 200 islands, Arkansas' largest lake is host to a variety of outdoor  activities, and Mountain Harbor is ideally situated to enjoy them.
A sampling of the activities available to the family staying at resort include boating; Water Skiing, Jet Skiing and Tubing; Diving and Dive Certification; Underwater Spear Fishing; Fishing; Island Adventures – more than 200 spots to choose from; swimming in the clean lake, swimming pools, or old fashioned swimming holes fed by underground springs; Kayaking and Canoeing; Eagle Tours (winter season only); Star Gazing; Horseback Riding; Tennis; Horseshoes, Volleyball, Half Court Basketball; Golf, Crystal Digging, and Diamond Hunting.
The resort's website tell us "It's finder's keepers at the Crater of Diamonds State Park in Murfreesboro, just an hour drive from Turtle Cove Spa. The only public diamond mine in the world, Crater of Diamonds offers you a one-of-a-kind adventure and the opportunity to hunt for real diamonds and to keep any you find. You'll search over a 37-acre plowed field, the eroded surface of an ancient, gem-bearing volcanic pipe. Since diamonds were first discovered on the site in 1906 over 75,000 diamonds have been unearthed."
The park staff provides free identification and certification of diamonds and interpreters present programs about diamonds, the geology of the gem-bearing diamond pipe, the park's history, and its diversity of plant and animal species. Nearby Diamond Springs Water Playground, a 14,700-square-foot mining-themed aquatic playground, features a 4,166-square-foot wading pool with spray geysers, sprayers, water jets, animated waterspouts, cascades, two water slides and waterfall hideaways along with a spacious deck and pool furniture.†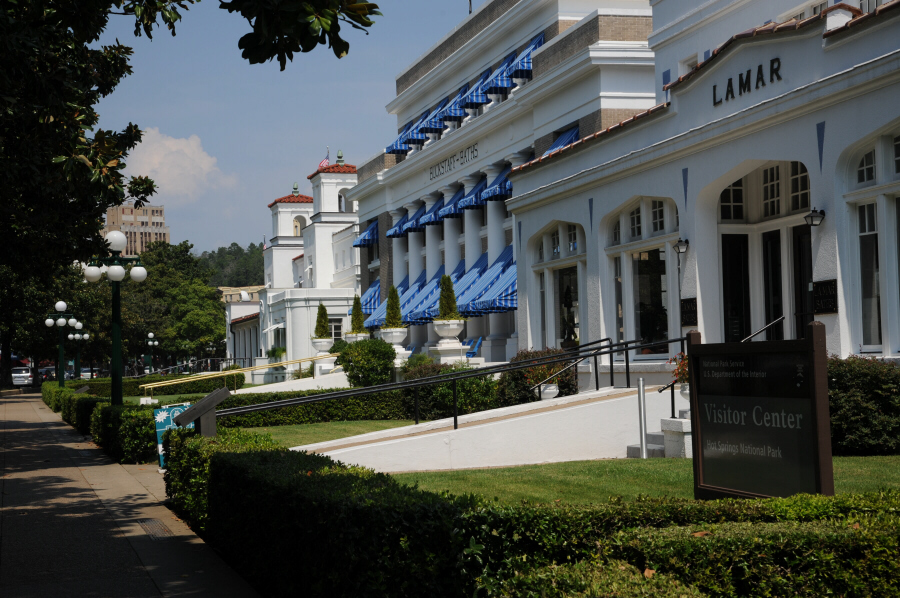 HOT SPRINGS, ARKANSAS
I ended my tour of Arkansas where its spa region first began.
Hot Springs is considered the birthplace of spa destinations in America, and yet, it has become progressive, or at least popular enough, to be named one of Forbes Magazine's Telecommuting Heaven Cities.
Prior to the advent of more modern medical practices in the 1940s, this federally protected reservation (the nation's oldest federal preserve, predating Yellowstone by some 40 years) offered "the spa water cure" in rich and curative 147° thermal spring waters.
The architecturally-significant and history-rich Bathhouse Row remains a major attraction for those who seek out the "old time experience".   Bathhouse Row is certainly worth visiting, even if only for the novelty and history rather than seeking a progressive spa treatment.   Fortunately, renovations, upgrades, and improvements are in progress to protect this important resource, and with newer and more full service spas in the immediate vicinity, the modern spa enthusiast can enjoy the best of both worlds.
Additional attractions include Hot Springs National Park, live and simulcast thoroughbred racing, Magic Springs/Crystal Falls theme and water parks, the 210-acre Garvan Woodland Gardens, a renowned arts community, the Mid America Science Museum,  music, magic, religious and trained animal shows, lake tours and more.
Shopping opportunities, including antiques, abound in the Spa City, and lodging runs the gamut from the historic Buckstaff Bathhouse on Bathhouse Row to the modern facilities at nearby Mountain Harbor Resort.
Outdoor activities in the Hot Springs area include golf, horseback riding, and mining for quartz crystals, as well as fishing and watersports that center around area lakes Hamilton, Catherine, Ouachita and DeGray.
Those activities combine with private lakeside resorts, rental houseboats and other accommodations, including those at three state parks nearby, to create numerous vacation options.
Additional recreational opportunities are afforded in the nearby Ouachita National Forest.
I arrived in Hot Springs in time for the world's shortest St. Patrick's Day Parade (as certified by the Guinness Book of Records).  On a one-block area of downtown Hot Springs, the entire town  turned out to celebrate its own quirkiness. Television cameras filmed marching bands, children, adults, and red hat ladies all strolling down the street, waiting in good humor for the master of ceremonies – George Wendt of "Cheers" Fame.  With chants of "Norm! Norm!", the master of ceremonies arrived in an open car for the one block drive — obligatory beer in hand.
In keeping with the parade's claim to fame, one corner later, he was finished, and so was I.
I returned to California with a new appreciation for the beautiful, hospitable, and historic state of Arkansas, and its important role in providing both a look back to our nation's spa history,  as well as progressive spa and wellness resorts for a new generation of visitors. Make sure you're one of them.  You will not be disappointed.
Last Update: October 2017; First published:  March 15, 2005 (San Francisco, CA)
Thanks to our State and Federal Resources:
†Arkansas.Com: Arkansas, The Natural State
‡National Archives and Records Administration (NARA)
Bathhouse Row U.S. Air Force photo by Airman 1st Class Harry Brexel
BROWSE MORE ARKANSAS SPAS

This long-running Weight Loss Retreat will match the price of another comparable residential weight loss program's advertised rates or specials for a one week stay or longer.
Ready to commit to an extended stay (9 plus weeks) wellness and health retreat? Check out the all-inclusive plan with amenities at this North Carolina retreat.
Wellness Retreats, Spa and Massage Services, Holistic Wellness and more, are offered throughout the year by PureRejuv Wellness Center  in association with the Himalayan Institute in the Poconos.

October 15, 2017 | Spa Index hot springs