8 Tips for Eating a Healthy Hotel Breakfast
Guests of Movara Fitness Resort and similar destination spas are served a nutritious breakfast, but what about when you are traveling and staying in hotels which are increasingly offering a Free Continental Breakfast?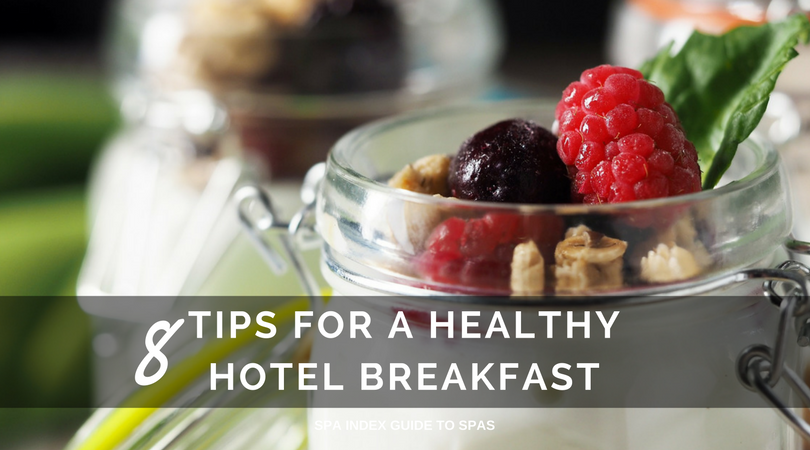 "Guests have asked me how to eat healthy when traveling and the most common concern is navigating continental breakfasts" says Emily Fonnesbeck, RD CD, a dietitian for Movara.
"Breakfast is the most important daily meal, and starting with a healthy one will set the tone for the rest of the day.   I have seen quite a few hotel breakfasts and all seem to have some foods in common.  
These are my 8 recommendations.  Ideally, as always, you would fill your plate 1/2 with fruits and vegetables, 1/4 with whole grains and 1/4 with lean protein."
Best Choices:
Fruit – bananas, apples, oranges and grapefruit
Whole grain cereals – Cheerios™ or bran flakes
Whole grain toast, English muffin or bagel
Plain oatmeal
Hard boiled eggs
Peanut butter
Low fat string cheese or cottage cheese
Skim milk
Mediocre Choices:
Yogurt (typically hotels stock sugary brands)
Fruit juice or juice cocktail
Prepared eggs (they usually have butter, oil or cheese)
Sweetened cereals
Waffles or pancakes
White toast, bagels or English muffins
Instant or sweetened oatmeal
2% milk
Unwise Choices:
Donuts
Pastries
Muffins
Waffles
Sausages, ham or bacon
Biscuits
Gravy
Cream cheese, jams and butter
Whole milk
Chocolate milk

"Combining some of the best choices will give you complete meals. For example, spread peanut butter on your whole grain English muffin — instead of butter or jam — and add a banana. In any situation, you are going to have an unwise choice, a mediocre choice and a best choice. Just remember to steer toward the better choice. That is all you can ask of yourself!" — Emily Fonnesbeck, RD, CD


May 7, 2016 | Spa Index All Wellness, Movara Fitness Resort, Weight Loss