6 Signs of a Great Hotel Spa
"Hotels have been very keen on spas in recent years–whether opening their own full-blown facilities with a dozen treatment rooms and exotic therapies or simply having one or two treatment rooms available with the basic rub-downs all travelers need. But just because a hotel might be five-star, doesn't mean its spa is. We'll be taking a closer look at hotel spas in the coming weeks, starting with what makes for a really great hotel spa.
It's surprising how many great hotels are let down by their spa. And while we won't name names, we will give you six signs of a very, very, very good spa." — Hotel Chatter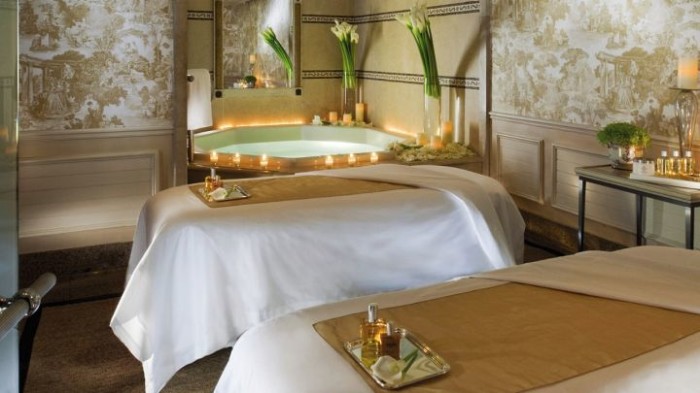 The Spa at Four Seasons Hotel George V, Paris
1. Separate saunas and steam rooms for men and women
A must Let's face it, as liberal as we can be in certain countries, we love not having to stumble upon a person of the opposite sex in a small, steamy room wearing the smallest of swimming costumes. It's just nice to let it all hang without that preoccupation in mind. Luxury hotels in the Middle East are inevitably the best at providing wonderfully grand single-sex services including a super sized ornate hammam of the Anantara Eastern Mangroves in Abu Dhabi or Talise Spa at Al Madinat in Dubai.
2. No communal locker rooms
The ultimate sign of a top-of-the-range spa is if its changing area is actually incorporated into the massage cabins so those of us who are a little shy about stripping down in front of strangers don't have to. Most spas will have a shared locker room, even the very best spas of the world, but being able to change, shower and get ready in your own private dressing room is a luxury that shouldn't be so rare. One spa we recommend for ultimate privacy is the Mandarin Oriental Paris spa, where all massage rooms are fully equipped suites including hand casted bathtubs.
3. A comfortable relaxation room
Even if a treatment lasts only an hour, it's worth booking a few hours off to get changed and make use of the facilities like a swimming pool, Jacuzzi, steam room and sauna. Ten minutes in the steam room before a massage or treatment is key to getting the most out of the experience. Prior to a massage, the steam helps to loosen the muscles making it easier to work on for the masseur, and if having a body treatment like a wrap then the steam opens the pores. In between it's always a good idea to rest so it's key to have a pleasant relaxation room. Comfortable day beds, low lighting, aromatherapy oils burning and relaxing music should be the setting here. There should be a good range of the most recent magazines and newspapers too. So far the best for comfort is the Four Seasons George V Paris, especially after a treatment when guests get a heated pad for their neck and shoulders.
4. A well-stocked spa bar
Relaxation rooms with a varied snack bar offering anything from natural herbal infusions to fine patisserie are usually a tell tale sign of a top-notch spa. Sometimes spa bars have their own staff like at the Manali Hotel's Cinq Mondes Mahayana Spa (Courchevel, France). Sometimes staff just seems to pop out of nowhere ready to step in and serve guests a cup of ginger tea or slice of Pierre Hermé cake like at Le Spa My Blend by Clarins at the palace-hotel Le Royal Monceau – Raffles Paris.
5. Eucalyptus oil in the steam room (and small touches)
Signs of a spa's luxury credentials are in the small details like an eucalyptus essential oil aroma in the steam room, which makes the experience even better. Towels and bathrobes, readily available in the changing room, should be crisp and fluffy, and should smell like a sunlit meadow, which always increases the pampering feeling. Another nice touch is twinkling ceiling lights and relaxing music in the sauna like at the Mas de Pierre in Saint-Paul-de-Vence, France. The best spas ask guests to swap their shoes for a pair of slippers as soon as guests arrive for their treatment. A welcome drink of ginger tea for example, or a cold wet towel in a hot country, are also good signs.
6. Welcoming and genuine staff
Last but certainly not least on the list, is the staff. The atmosphere of a spa depends entirely on its staff. A spa should be zen but healthily busy without there ever being two people in one space for more than a few minutes.The attitude of those who work at a spa should be relaxed, friendly and not overly formal. Staff should always look busy but be welcoming and guests should be made to feel at ease right away.
---
July 17, 2014 | Spa Index