6 Reasons to Take a Yoga Class While on Vacation (even if you've never tried Yoga)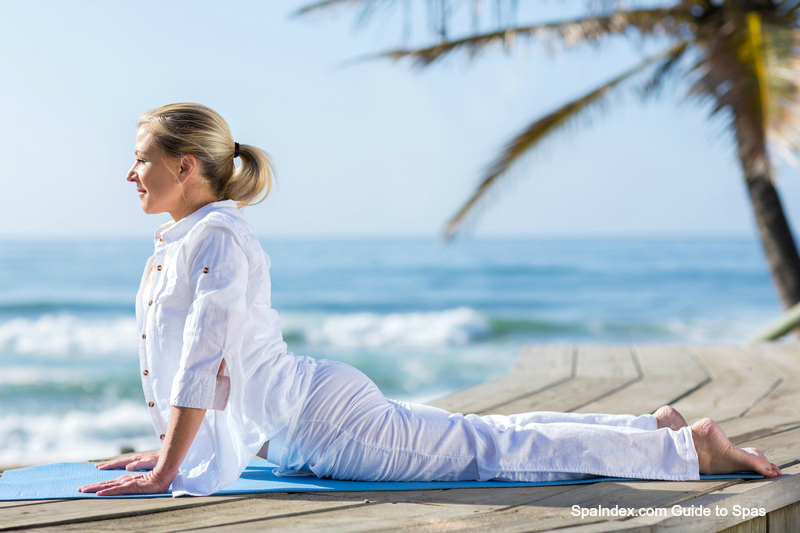 Yoga has a wonderful range of benefits that tie in really well with a vacation.    Some of the benefits are actually quite similar to the benefits we get from going on any kind of vacation – for example, the relaxation and health benefits, so why not supercharge that vacation with some yoga? 
Let's look at six common benefits!
JET LAG and TRAVEL WEARINESS
Yoga is a great way to overcome jet lag or stiffness from a long journey. One of the best asanas (yoga poses) for this is called Sivasana (lying on the floor with your arms and legs stretched out at a 45 degree angle to the body). This asana is often done between other poses and also at the end of a yoga class to facilitate deep relaxation.
MOTIVATION
Yoga classes on vacation is a great way to enhance your motivation to practice regularly in your usual life – a way to bring the vacation back home and enjoy it for a long time.
STAMINA
Another great benefit of doing yoga on holiday is to keep you strong and full of stamina – perfect for those lengthy sightseeing visits and nights out around town.
RELAXATION
Yoga is extremely relaxing – and isn't that why you're going on vacation – to relax? Yoga it's a great way to really wind down from the stress of everyday life.
EXERCISE
Yoga is also well known for toning us up and keeping our bodies in shape – and who doesn't want some of that on vacation when we tend to imbibe a bit more than usual?
COMMUNITY
Yoga is a great way to meet other like-minded people and forge friendships while you're on your holidays. These new friends can share tips and favorite spots and restaurants.
THINGS TO CONSIDER
Incorporating a yoga class or a yoga program on vacation, whether you're a beginner or seasoned yogi, has all these amazing benefits and many more.  If  you've decided to take a wellness vacation and to incorporate yoga, you've made a great decision.
So, what else should you consider?
Think about just how much yoga you want to be a part of your holiday.  For example, you might want to be fully immersed in a yogic lifestyle – where yoga, meditation and a simple, healthy diet are all components of your stay.  The setting might be in the mountains, countryside or at a quiet beach, to ensure a peaceful and tranquil experience, or you might like to be a bit closer to town, in a more urban setting.
Alternatively, you might like a less yoga and more spa vacation, where the occasional drop-in class is quite enough to ensure you stay flexible enough to engage in tourism, sporting activities, hike, swim, or just carry your sun lounger to the pool after spa services.
You should also consider what level of class difficulty suits you (beginner or advanced?) and whether classes at your level will be available on your vacation.
There are many different types of yoga – Hatha, Iyengar, Ashtanga, and more.   Research may be required if you're not already familiar with their differences, to ensure you choose one which best suits you.
You might also have a preference for one-on-one classes or you might like to practice in a group. Many spa resorts and hotels offer complimentary yoga classes on the beach or in groups, while others may be for an added fee.  Take this into consideration as well when choosing your location.
Whether you visit a traditional yoga retreat, a luxury spa resort, or a destination spa, thankfully yoga is now widely available as part of an activities and fitness program.
HOW TO CHOOSE THE BEST YOGA RETREAT
Just as you would consider any vacation or hotel lodging, you'll want to consider your location, location, location.  Are you interested in a rural experience with little traffic or urban sounds?  One of the primary attractions of a full-immersion Yoga Retreat is the absence of urban distractions and plentiful opportunities to embrace nature and natural surroundings.
Some guests, however, prefer to within walking distance of civic sites, restaurants, theaters and museums, or, prefer a hotel or resort setting so that family members have a variety of other activities to enjoy.
You'll also want to consider whether you are comfortable in a shared accommodation lodge with minimal amenities, or,  with shared common areas and bath facilities, or, if you'd prefer the privacy of your own guest suite, cabana, or hotel room.  Are you traveling with a pet?  Ask if the retreat is pet friendly, and if so, what deposits are required.
Consider your level of experience.  If you are well versed in yoga and movement, you'll enjoy most traditional retreats.  Beginners, however, should inquire as to classes for those new to yoga and movement, and whether you'll be best served by a group class or one-on-one instruction.
You'll also want to inquire about meals.  Most retreats offer meals, sometimes as part of an all-inclusive program. While most traditional yoga retreats offer health oriented dietary choices (vegan, vegetarian and fitness meals), some offer more traditional fare, and of course hotels and resorts have a more standard menu based on the region.    As with any wellness destination, special dietary considerations should be communicated well in advance of your stay.
As for spa services, inquire if the program services are therapeutic (massage, cleansing, acupuncture, or skincare by licensed professionals), or are relaxation oriented (hot tubs, foot baths, aromatherapy).  If therapeutic services are offered, be sure to book as far in advance as possible.
FITNESS AND YOGA RETREATS
Browse our favorite Destination Yoga and Fitness Retreats.  These facilities offer weekend or week-long programs for fitness and yoga in ideal locations to jump start wellness.
RESORTS AND SPAS OFFERING YOGA CLASSES
Browse our favorite Day Spas, Hotels and Resorts with Yoga Programs and Classes.  These facilities offer a variety of  Yoga, Tai Chi and other Movement, Activity, and Wellness Programs.
October 1, 2017 | Spa Index All Wellness, Yoga