25 Best Weight Loss Spas and Resorts
The first step in undertaking any goal of importance is simply taking a second step. When it comes to arriving at a healthy weight, knowing what you should do, need to do, and want to do, is not as hard as converting that knowledge to action. You've decided to enroll in a residential weight loss program at a destination spa or weight loss retreat — that's taking action. Deciding which program is best for you can be challenging.
Here are our picks for 25 of the Best Weight Loss Spas, Resorts and Programs in the world.
L'Alfas del Pi, Spain
SHA Wellness Clinic is a weight-Loss program focused on restoring health and improving quality of life. This 7-14 day program starts with a medical examination and laboratory tests to determine the best course, consultations with an expert on nutrition and natural therapy, a custom nutrition plan, Traditional Chinese Medicine treatments (acupuncture or moxibustion), a custom health plan to follow after your stay, and much more.
Bodrum, Turkey
Inspired by the Hanging Gardens of Babylon and built in the style of a relaxed Mediterranean seaside village, Sianji Wellbeing Resort is the perfect setting to embrace a new and healthy lifestyle.  The program focuses on a total wellness experience, combining physical, spiritual and mental aspects, including nutrition, medical exams, fitness and sports activities, soothing spa treatments, and lifestyle seminars and classes.
Montreaux, Switzerland
Clinique La Prairie is the merging of a spa, hospital and hotel. The Clinique La Prairie Weight Management Program offers a multidisciplinary approach with the assistance of a nutritionist, dietician, personal fitness trainer, psychologist, massage therapist and aesthetician.   The thirteen (13) night program includes extensive medical and wellness services, lodging and meals, discounted spa services, and more, in a region of unparalleled beauty.
Naples, Italy
Capri Palace is a beautifully equipped luxury hotel in Naples, Italy with a fully equipped luxury wellness spa with personalized programs and treatments.  The Mediterranean Diet program at Capri Palace was developed by an MD specialist in food science, immunology and aesthetic medicine. Participants in this program undergo clinical tests for ideal physical activity and personalized diet as well as integrated treatments that promote weight loss.
Lenox, Massachusetts
The Lenox Health Resort Weight Loss Program at Canyon Ranch eschews what it calls "tedious, cookie-cutter weight-loss directives and dreary menus" and instead offers guests a whole-person program with access to top experts in nutrition, exercise physiology, life management, and lifestyle medicine – all working to tailor the best weight loss plan for each guest. Stays range from 1 week and longer, with an all-inclusive no-tipping plan with meals and lodging.
Tucson, Arizona
The Canyon Ranch weight loss program is also available in Tucson.   Like Lenox, an all-inclusive program is offered, and you'll meet one-on-one with caring professionals – including physicians, life management therapists, nutritionists, exercise physiologists and more. Together you'll develop a personalized plan for long-term, sustainable weight loss, better health and a more balanced and fulfilling life, which is a bit different from other weight loss resorts.
Durham, North Carolina
Structure House is a respected residential weight loss program founded in 1977 upon the philosophy that achieving and maintaining weight loss goals is the result of changing the way overweight individuals think about nutrition, exercise and the role food plays in their lives.   Structure House also offers an non-residential online program, for those who seek to better their lifestyle through online coaching, tips, support, recipes, and more.
Ludlow, Vermont
Green Mountain at Fox Run offers health and weight loss retreats for women only, which range from specialty weekends to 1-2-3-4 week programs, as well as extensive online resources, including recipes, tips, forum support, and complimentary webinars on a variety of topics ranging from mindfulness to binge eating. The panel of experts take particular care with young women to guide them to wellness at critical stages in their lives.
Miami, Florida
Pritikin was the first comprehensive lifestyle program in America, addressing many of modern society's health concerns, including obesity, heart disease, high blood pressure, and diabetes. The 1-3 week programs are all-inclusive programs and focus on quality food without deprivation, to avoid returning to a yo-yo dieting mindset. Guests are immersed in classes, exercise, weight-loss counseling, and physician care that inspires them with an "I can do this!" approach.
Tecate, Mexico
Rancho La Puerta was founded nearly 70 years ago as the original destination fitness resort and spa.  The ranch offers an Executive Wellness program, natural wellness therapies, mindfulness sessions, and nutrition by a panel of expert practitioners. Follow up care is through the WellnessFX online program, which permits guests to access lifelong wellness from home before, during and after a visit to the Ranch.
Malibu, California
Limited to just 15 people each week, the Sunday to Saturday stay at the Ranch at Live Oak Malibu is designed to deliver sustainable results through a strict, "no-options" philosophy.   Tough workouts, physical endurance, yoga, and hiking are key elements of the program as well as the vegetarian cuisine sourced on the property. No cell phones are permitted and while accommodations are beautifully appointed, you won't find televisions to distract you from activity.
Ellenville, New York
The Shane weight loss programs for families and adults first gained fame as Camp Shane, founded in 1968 and still the longest running children and young adult weight loss camps.   Shane Diet & Fitness Resorts operates at the family-friendly Honor's Haven Resort & Spa.  The all-inclusive approach to safe and sustainable weight loss rests on five principles:  The Shane Experience, Nutrition,  Behavior Change,  Fitness and Integrative Wellness.
Hilton Head Island, South Carolina
Hilton Head Health (H3) is a destination health resort offering customized programs focusing on fitness, nutrition and SELF (Stress management, Empowerment, Longevity, and Fulfillment).   Graduates of the programs continue their lifestyle change with the H3@Home program and receive continued support and structure at home.  The H3@Home blog is also available for readers to benefit from recipes, tips, and workout plans.
Killington, Vermont
People travel from around the world to New Life Hiking Spa in Vermont to attend a variety of weight loss retreats, ranging from mini-wellness weekends to week-long Jump Start Getaways.  The all-inclusive program accommodates guests at various fitness levels from beginner (picturesque country settings) intermediate (along the diverse Appalachian Trail) and advanced (challenges up the some of the highest peaks in Vermont).
Dallas, Texas
Dr. Kenneth Cooper established The Cooper Institute to develop and maintain a rich repository of health-related data. He wanted his work to eschew "fads" and focus on on scientific legitimacy.  The Cooper Center Longitudinal Study is one of the most highly-referenced databases on physical fitness and health in the world. Cooper Healthy Living offers 2-5 day programs focusing on weight loss and fitness.
Tucson, Arizona
Miraval, ideally situated in the picturesque Sonoran Desert north of Tucson, has a simple philosophy:  Life is more meaningful and enjoyable when physical, emotional, social, spiritual and intellectual components are in balance. After wellness and fitness evaluations, guests participate in a variety of programs that focus on unique goals — not just numbers on the scale — such as a healthy gut, nutrition, mindful eating, anti-inflammatory and anti-aging cooking, and more.
Vista, California
Cal-a-Vie bridges the gap between health resort and luxury spa.  Its comprehensive nutritional services include consultations with a registered dietician and tests with a biochemistry focus to identify problems arising from adrenal, thyroid or hormone imbalances, nutritional deficiencies, food sensitivities, and more. The fitness program includes more than 130 different classes for beginners to the already fit.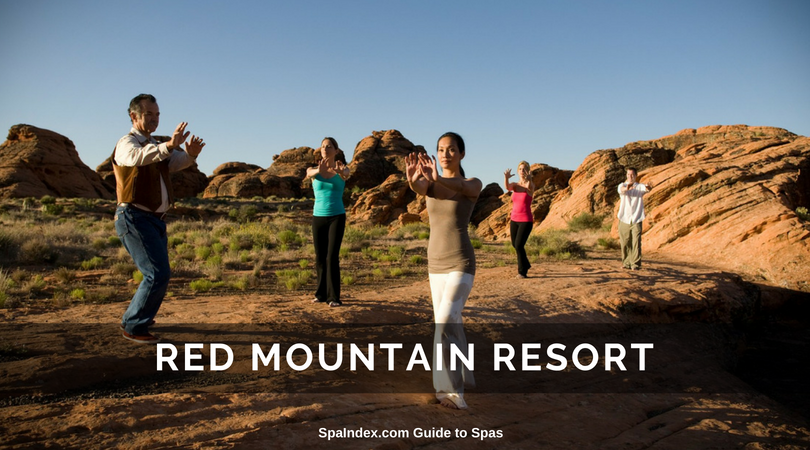 Ivins, Utah
Red Mountain Resort enjoys a spectacular setting in the red rocks surrounding St. George, Utah.   Programs  include a wide variety of fitness assessments and tools to meet your health and wellness goals.   The Living Well Weight Loss Retreats, specifically, are customized for each guest and provides mental, emotional, physical and nutritional guidance from an experienced team of wellness and fitness specialists
Surrey, UK
Pax intrantibus; Salus exeuntibus. This latin phrase is engraved above the entrance to Grayshott Health Spa.  It translates to Peace on Arrival and Health on Departure. Taking a naturopathic approach, Grayshott uses therapeutic treatments, scientific dietary protocols and eating practices to tackle health from the inside out.  The 7 – 21 day programs are strict, precise, and controlled and start a new chapter in health.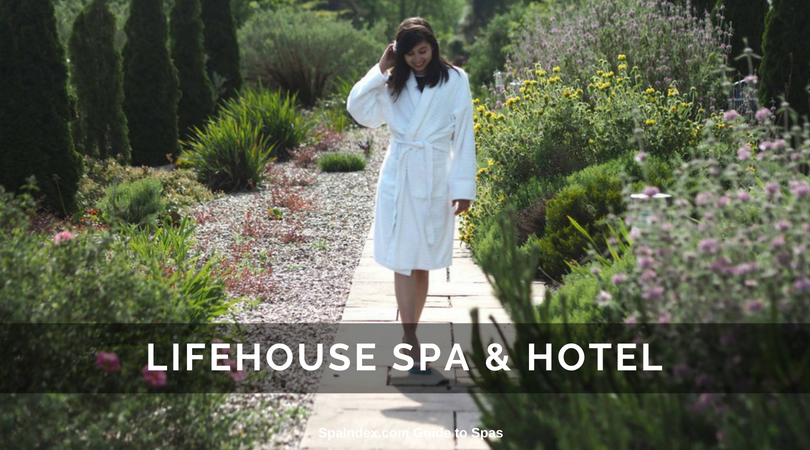 Essex, UK
Lifehouse Spa & Hotel focuses on alternative health care with laboratory analysis to identify issues contributing to weight concerns, including nutritional deficits and food intolerance. Treatments range from naturopathy and kinesiology to acupuncture, and a resident spiritual guru is on hand to guide meditation. Programs focus on healthy aging, locally sourced fine dining, and juice cleansing.
Mount Malarayat, Philippines
The Farm at San Benito is an eco-friendly holistic health sanctuary on 119 acres of lush jungle in the foothills of Mount Malarayat. The Wellness Retreat package treats guests to a fitness and nutrition program, including rooms, meals, consultations with fitness and wellness experts, medical screening, fitness assessments, and healing spa treatments.
Innsbruck, Austria
Parkhotel Ingls offers a destination fitness and weight loss program in the Austrian Tirol region, emphasizing nutrition and and digestion. The tenets of its program, Modern Mayr Medicine holds that most chronic disorders can be successfully treated with thorough regeneration of the entire digestive system. Enjoy medical services, training, fitness, nutritious meals, complimenting spa services, and more.
Koh Samui, Thailand
Absolute Sanctuary Thailand fitness and weight management retreats range from 7-10-14 days,  and include meeting with a panel of medical experts for consultations and analysis, fitness assessments, nutritionally balanced spa cuisine from the resort's Love Kitchen (providing whole foods, vegetarian and raw cuisine), nutritional supplements, yoga and fitness classes,  herbal steam rooms and infrared sauna sessions.
Piešťany, Slovakia
This Grand Spa Hotel in Piešťany is reknowned for its healing treatments offered to Europeans and visitors for more than 100 years.  Its natural springs' healing properties are represented by a "crutch breaker", the iconic symbol of Spa Piešťany. Danubius weight loss programs and packages include accommodations, meals, physician consults and exams, fitness evaluation, laboratory tests, medical reports upon departure, and more.
Himalayas, India
Ananda Spa in the Himalayas is located in the region that gave birth to Ayurveda, the science of identifying and correcting the imbalance in  bio energies of the body. The Weight Management Program addresses the physical and emotional challenges associated with weight loss and weight maintenance and is based on the best of both Western and Ayurvedic treatments.
Weight Loss Spas and Retreats conduct programs for guests who are seeking a vacation or away-from-home experience to jump start a healthier life.  These organized programs and retreats can vary from medically oriented, to luxurious vacations, to no-frills boot-camps.  No matter what "style" suits your interests and needs, any weight loss spa and retreat should include counseling and coaching on health and wellness, exercise and fitness, and nutritional guidelines.
ALSO SEE THESE WELLNESS RESOURCES
Does a Fatty, Sugary Diet Contribute to Holiday Blues? While the holidays are a time of joy and fellowship for some, they often lead to bouts of depression for others.

October 1, 2017 | Spa Index | Tags: Best Of, Canyon Ranch, Fitness, Florida, Green Mountain at Fox Run, Miami, Miraval Recipes, Pritikin, Ranch at Live Oak, Rancho La Puerta, Red Mountain Spa Recipes, Shane Recipes, Structure House, Weight Loss